Reach your goals with McMain Software
Maintenance management software made simple
Easy registration of maintenance on your assets
All information and documents combined in one place
New features every month!
Try 30 days for free
Compatible with: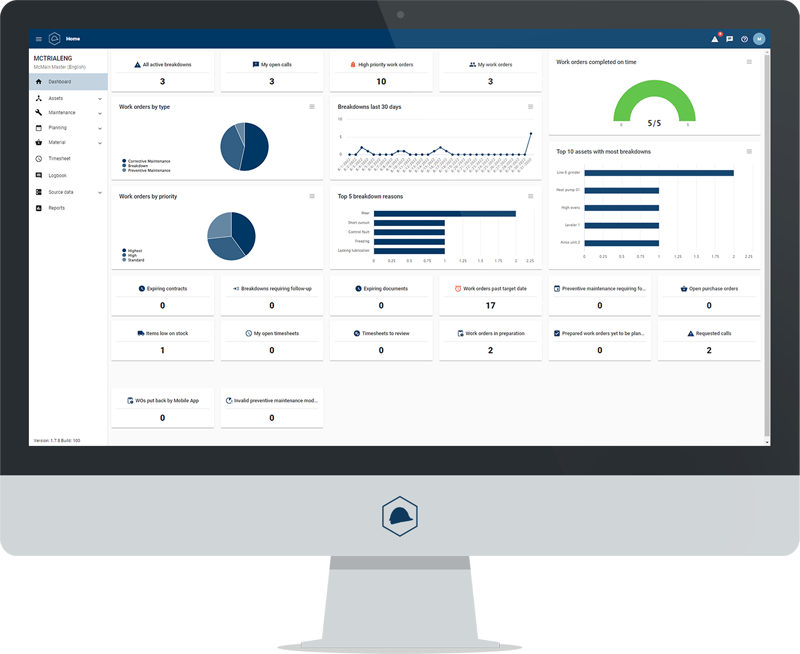 A couple of organisations who are already using McMain Software:
#1 Maintenance Management Software
10.000 daily users
Work paperless
Free updates and expansions every month
The price stays the same
Increase uptime by using McMain Software
Within McMain you can easily plan and manage all of your maintenance. This way you can make sure that your assets are showing optimal performance at all times. This leads to an increase in uptime and a better output.
You don't have to look everywhere to find the information. Everything is stored all together within one system. You keep grips on your planning by using our graphical planningscreen. This allows you and your colleagues to see eachothers workload.
Try for free
The functionalities of McMain Software
Everything you need for optimal performance of your assets
Connect McMain with other systems
McMain comes with a free open API. This enables you to easily transfer data to and from McMain. Ensure good data quality. Prevent double registration and increase your own efficiency
Try for free
Pricing and packages
Find the package that suits your needs
Lite
The ideal tool for the fundamentals of your Technical Service.
Asset management
Breakdown registration
Preventive Maintenance
Graphic Planboard
Calls
Procedures & Inspections
Most popular
Team
Mastered the basics or time for expansion? Make your (next) move with Team.
Everything from Lite +
Work permits
Authorization management
Crews
Project management
Contract management
Procurement & Inventory management
Pro
The advanced platform for the maintenance professional.
Everything from Team +
Multiple sites
Multiple languages
Multiple warehouses
Custom software
Availability over all modules